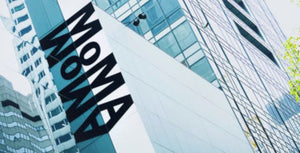 Free Courses with MoMA
Immerse yourself in ideas and see your world in new ways through art.
In MoMA's free Massive Open Online Courses (MOOCs) on Coursera, you will hear directly from artists and designers, look closely at works in our collection and exhibitions, and join a community of learners unlike any other. Enrol any time and complete the course at your own pace. Click the course below or visit coursera.org/moma to enroll.
What Is Contemporary Art?
What is contemporary art? In this course, you'll explore this question through more than 70 works of art made between 1980 and the present day, with a focus on art made during the past decade. Not only will you develop a deeper understanding of artists' practices today, you'll also explore some of their myriad approaches to pressing issues and questions of our time. By taking this course, you'll gain confidence to look at contemporary art wherever you encounter it and make connections to your own life or creative practice.
Modern Art & Ideas
Using works from MoMA's expansive collection as a point of departure, this course encourages learners to understand, enjoy, and use modern and contemporary art through four themes: Places & Spaces, Art & Ideas, Transforming Everyday Objects, and Art & Society.
Seeing Through Photographs
What is a photograph and how has photography been used throughout history? Seeing Through Photographs explores this fascinating subject through works in MoMA's collection and wide-ranging conversations with artist and curators that reveal the many different factors that inform the making of a photograph.
Fashion as Design
Fashion as Design focuses on a selection of more than 70 garments and accessories and explores their profound impacts—social, cultural, economic, and environmental—on the world. In this course, you'll hear directly from a range of designers, makers, and historians, and will look closely at what we wear, why we wear it, how it's made, and what it means.
In the Studio: Postwar Abstract Painting
Want to know how some of the 20th century's most celebrated artists made abstract paintings? This course offers an in-depth, hands-on look at the materials, techniques, and approaches of seven New York School artists, including Willem de Kooning, Yayoi Kusama, Agnes Martin, Barnett Newman, Jackson Pollock, Ad Reinhardt, and Mark Rothko.
Art & Inquiry: Museum Teaching Strategies for Your Classroom
Learn how to integrate works of art into your classroom using inquiry-based teaching methods originally developed for in-gallery museum education.
Art & Ideas: Teaching with Themes
This course is designed to help build critical skills that support theme-based teaching practices and build confidence in incorporating modern and contemporary art into interdisciplinary lesson plans.
Art & Activity: Interactive Strategies for Engaging with Art
Art & Activity builds upon the inquiry-based approaches of Art and Inquiry: Museum Teaching Strategies for Your Classroom, while delving into activity-based strategies for making your students empowered participants.
All courses are being offered free of charge by the Museum of Modern Art