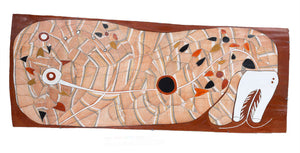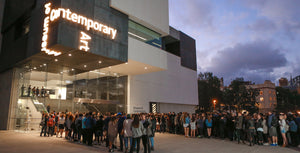 GENEXT: John Mawurndjul
I am the old and the new
This Event has now passed.
MCA GENEXT returns on 15 July with a very special program inspired by the work of acclaimed Kuninjku artist John Mawurndjul, on show at the MCA as part of his major survey exhibition, John Mawurndjul: I am the old and the new.
GENEXT is a free, all-access, festival-style event that is strictly for young people aged 12–18 years. Enjoy free snacks, live music, artist-run workshops, social activities and exclusive after-hours entry to all exhibitions.
GENEXT is programmed and run by the MCA Youth Committee, with support from MCA artist educators and Young Creatives Coordinator.
GENEXT is a drug and alcohol free event. It is also a parent and teacher-free event that is supervised by MCA staff, gallery hosts and artist educators.
Running time: 3 hours (6pm - 9pm)
Image 1: MCA GENEXT, July 2016: Tim da-Rin
Image 2: John Mawurndjul, Ngalyod 2012, earth pigments on Stringybark (Eucalyptus tetrodonta), Museum of Contemporaty Art, purchased with funds provided by the MCA Foundation, 2015. John Mawrndjul/Licensed by Copyright Agency, 2018. Photo: Jessica Maurer
Image 3: MCA GENEXT, April 2015. Image courtesy: MCA Australia. Photo: Maja Baska.
Find out more about the Museum of Contemporary Art Australia