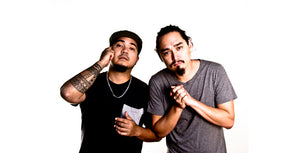 In Between Two
Monkey Baa Theatre Company presents a Contemporary Asian Australian Performance production
This event has now passed. 
Two trailblazing stars of the Australian music scene take to the stage to explore what it means to grow up Asian in Australia. An autobiographical 'slide night like no other' based on the fascinating family histories of hip hop artists Joel Ma (Joelistics) and James Mangohig, both the first sons of mixed race marriages with Asian fathers. In this unique show they share the soundtrack of their mixed heritage – the Asian Australian stories that have shaped their musical careers and themselves growing up in Australia.
From a nightclub-owning Grandma in an open marriage to globetrotting parents with a political streak, the pair lovingly paint a canvas filled with failed proposals and religious strictures, casual racism and empowerment through music.
Like an hour with good friends—who just happen to have impeccable taste in tunes— this is a show that keeps to the beat of the human heart. Consummate storytellers and charismatic performers, this is a joyful and captivating show to celebrate our diversity and start conversations.
Stick around after the performance for a Q&A with the performers and find out more about this CAAP Production. 
The Risky Stuff: Contains course language and mature themes.
Running Time: 70 minutes
Written, composed and performed by Joelistics & James Mangohig
Dramaturges William Yang & Annette Shun Wah Set
Set Designer Eugyeene Teh
Visual Designer Jean Poole
Lighting Designer Lucy Birkinshaw