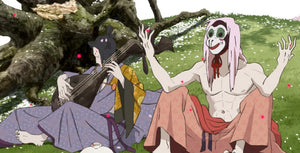 Inu-oh
From Masaaki Yuasa, director of cult anime hit Mind Game, comes a Japanese folklore-glam-rock-musical-anime epic awash in his hallmark psychedelic imagery.

This event has passed 
In 14th century feudal Japan, Inu-Oh dreams of becoming a Noh performer but his physicality horrifies other villagers and he is reduced to an outcast. But all that changes after a chance encounter with blind biwa player, Tomona. Uniquely bonded, the pair form a stage act that thrusts them from the margins of society and into celebrated notoriety. Yuasa's film starts as a fusion of Japanese Noh and contemporary rock anthems, explodes into an exploration of queerness and body transformation, then morphs into a celebration of the power of storytelling and the subversion of political power.
Find out more about Ino-Oh