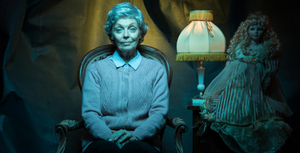 John
The week after Thanksgiving.
This event has now passed
A bed and breakfast in Gettysburg, Pennsylvania. A cheerful host. A young couple whose relationship is disintegrating. Thousands of inanimate objects. Watching…
After the huge success of The Flick, Outhouse Theatre reunites with Pulitzer Prize winning playwright Annie Baker for the Sydney premiere of a rich, mysterious and haunting tour de force. Is it a ghost story? A love story? A spiritual story? Mysteries abound in this uncanny journey into the dark corners of the human soul and the divine.
"Baker's true masterpiece." Slate
"So good on so many levels that it casts a unique and brilliant light." The New Yorker
"A haunting and haunted meditation on topics Baker has made so singularly her own: the omnipresence of loneliness in human life, and the troubled search for love and lasting connection." The New York Times
"Annie Baker is one of the most singular talents in modern theatre." The Guardian
★★★★★ "Exquisite, disturbing and startlingly funny." The Stage
Running Time: 200 mins (including interval)
The Risky Stuff: Production contains coarse language. Photography and filming prohibited.
Presented by Outhouse Theatre Co at the Seymour Centre