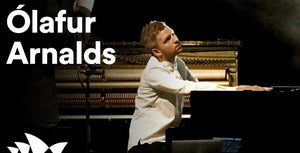 Ólafur Arnalds
Sydney Opera House: From Our House to Yours
Bringing their stages to your sofa, the Sydney Opera House's new digital program comes to you weekly from their House to yours. Tune in weekly from Wednesday to Sunday for archival footage, live broadcasts and premieres.
Ólafur Arnalds - Live at Sydney Opera House
Premiered in full for the first time, Iceland's BAFTA Award-winning pianist-composer Ólafur Arnalds leads the Sydney Chamber Orchestra arranged by Viktor Orri Árnason in a specially-commissioned performance two years in the making.
Performed at GRAPHIC Festival in 2015, come on an emotional journey through new arrangements, fan favourites and rarities with live visuals by Máni M. Sigfússon.
Ólafur Arnalds: Piano and all compositions
Viktor Ori Árnason: Conductor and arranger
Máni M. Sigfússon: Visuals
Presented by the Sydney Opera House