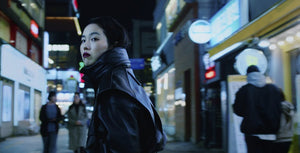 Return to Seoul
From Cannes Un Certain Regard, Davy Chou's (Golden Slumbers, SFF 2012; Diamond Island, SFF 2017) moving, delightful film follows a young French woman's quest to discover her Korean roots. Previously known as All the People I'll Never Be.

This event has now passed
Twenty-five-year-old Freddie is meant to take a short holiday in Japan. But at the last moment, she decides to fly from Paris to Seoul. South Korea was her birthplace before she was adopted and raised in France. Upon her arrival Freddie begins a tentative search for her birth parents. Torn between a strong desire to find them, and strong feelings of anger at her abandonment, she faces a drawn-out, complex process. In the interim, she sets about a series of adventures and misadventures in Seoul. Drinking games get out of hand, a one-night stand gets way too attached, and all the while the headstrong Freddie questions both her mission and her identity. In Freddie, director Chou has created a fascinating and unforgettable character, brilliantly brought to life by Ji-Min Park. Over nearly a decade, we follow her as she contends with her identity crisis – a journey filled with moments of humour and deep emotion, in a film of great vibrancy and power.
Find out more about Return to Seoul

Image: ©Aurora