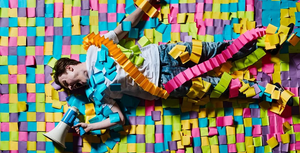 Stop. Drop. And Listen
Some stories are too big to be told by just one person. Some stories can change the world.
This event has passed.
And some stories are like something you've never heard before. Featuring villainous French chef's, a forbidden fungus, magic powers and wise old turtles, Stop. Drop. And Listen is one of those kinds of stories. 
Join Shopfront's Senior Ensemble for an adventure that takes aim at the big impossible problems we all have to face, exploring what we do when things go terribly wrong and how to find the right answers in the end.

Directed by Hayden Tonazzi and Lily Hayman
Devised by Shopfront's Senior Ensemble

AUSLAN INTERPRETED PERFORMANCE: Friday 14th July @ 7pm 

Find out more about Stop.Drop.And Listen. Presented by Shopfront Arts Co-op.
Image by Joshua Morris