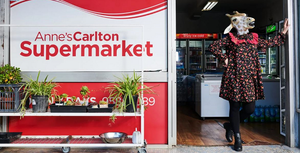 'TED' SILENT MOVEMENT
Zoe dreams of becoming an

 

A

USLAN

 

interpreter

, and to get there she needs to try a lot of new things.

 

 
This event has passed.
This beautiful new movement work by Zoe Ong combines Australian Sign Language with movement to celebrate the joys of discovering something new. Zoe, a young artist with disability, celebrates the beauty of Australian Sign Language and self-expression in this exploration of what can happen when you step outside your comfort zone.  
Shopfront's Member Production is chosen by all of our members aged 8 – 26 and can involve any art form. After embarking on a three-month residency, receiving artistic support, an industry mentor and production team, they stage their artistic creations in front of an audience to experience.
Created and Performed by Zoe Ong
Mentored by Margot Politis
Composed by James Brown
Lighting Design by Olivia Tagg
Production Management by Georgia Tyrril (mentored by Tyler Fitzpatrick and Hannah Crane) 
AUSLAN INTERPRETED PERFORMANCE: Friday August 4th 7pm
Find out more about 'TED' Silent Movement. Presented by Shopfront Arts Co-op.
Image by Joshua Morris