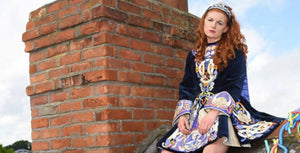 The Humours of Bandon
A charmingly hilarious coming of age story from Internationally acclaimed Irish theatre company, Fishamble, that's full of heart, humour and wisdom.
This event has now passed.
The Humours of Bandon is for anyone who ever had a childhood passion that threatened to overwhelm their life.
Nobody knows just how far their child will take that first after-school activity. To the surprise of her mother, Annie takes it all the way to the top echelons of the Irish Dancing Championships. On the eve of the biggest competition of her teenage life, Annie shares her mind-numbing commitment and burning desire to win the Irish Open title. Will she win and, if so, in what way?
A vivid portrait of a world far removed from the showbiz glitz of Riverdance, this award-winning work is a charming reminder that there's more to life than learning the right steps.
★★★★★ '…a delight… Margaret McAuliffe is a star… sit back and enjoy this emotional rollercoaster ride.' Broadway Baby
★★★★ '…witty and warm… McAuliffe, like this rather perfectly formed show, is a winner…' The Times
WINNER Best Theatre Script at Writers' Guild of Ireland ZeBBie Awards 2017
WINNER Little Gem Award at Dublin Fringe Festival 2016
NOMINATED Best Performer at Dublin Fringe Festival 2016
Running Time: 60 Minutes (no interval)
Presented by Fishamble in association with Merrigong Theatre Company at Riverside Theatres