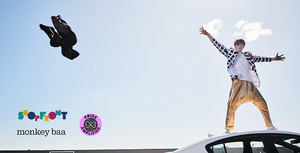 The Lies We Were Told
After a SOLD OUT Season in 2021, and a spectacular return in 2022 THE LIES WE WERE TOLD is back for a long-awaited third season, this time partnering with Monkey Baa Theatre Company to present the best show ever made as part of Sydney World Pride Amplified.
This event has passed. 
"You don't stop laughing because you grow older. You grow older because you stop laughing." Maurice Chevalier
Conceived and created by a fiery group of teenagers, The Lies We Were Told is an insight into what it's like to grow up in society obsessed with fiction and what it takes to figure out the facts.

From little white lies about the tooth fairy to the big, trickier ones about gender norms, heteronormativity and queerness, this fresh Australian play unpacks how society places us in a box from day dot. With stories about the hopes and dreams of young people, this is a bold exploration of what it's like to be a teenager living in Australia today.

Exploring trans and gender diverse stories, join these teenagers as they joyfully celebrate LGBTQIA+ youth and families, while teaching us you a couple of important lessons along the way.
"The 14 young artists had the audience in the palm of their hands  […] from being in stitches of laughter to crying and evoking thought-provoking conversation topics for the after-show debrief with your friends and family on the way home." ★★★★ – ATYP
Running time: 60 minutes 
Find out more about The Lies We Were Told. Presented by Shopfront with Monkey Baa Theatre Company at the ARA Darling Quarter Theatre as part of Sydney WorldPride Amplified 2023.