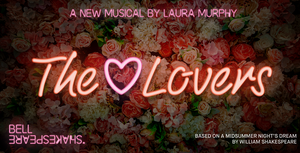 The Lovers
Love, and pop, and Shakespeare! 
A new musical by Laura Murphy. 
Based on 
A Midsummer Night's Dream

 
by William Shakespeare
This event has passed. 
Featuring original songs and an adapted script by Laura Murphy, The Lovers is a fresh and magical pop-infused reimagining of A Midsummer Night's Dream.
Oberon and Puck have devoted centuries trying to craft the perfect happy ending. However, as they look out over an increasingly disconnected world where would-be lovers are afraid to 'catch feels' and the path to romance is always one swipe away, Oberon fears there will be no more happily-ever-afters.
Until one day, they happen upon four young lovers.
Directed by Shaun Rennie (Rent, Baby Doll) with a superb cast, a live four-piece band and an irresistibly infectious score, The Lovers is a heart-warming and hilarious retelling of Shakespeare's beloved story that questions our enduring search for the romanticised version of true love we see in the movies.
Recommended for ages 14 and over.
Please be advised that The Lovers contains strong language and sexual references.
Presented by Bell Shakespeare. Find out more about The Lovers