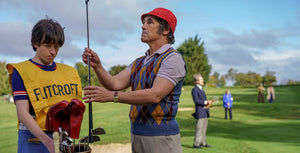 The Phantom of the Open
Oscar-winner Mark Rylance and Sally Hawkins star in this heart-warming, laugh-out-loud true story about the worst golfer to ever play the British Open.
This event has passed
The hard-to-believe but true story of Maurice Flitcroft (Rylance, also in The Outfit at SFF), a crane operator and indefatigable optimist who, with the support of his wife Jean (Hawkins), managed to gain entry to the 1976 British Open – despite never having played a round of golf in his life! With the assistance of his disco-dancing twin sons, and a slightly criminal co-worker, Maurice navigates all obstacles for the right to compete, only to record the worst round in Open history. Not that this poses any deterrent to his continued ambitions. The extraordinary story of an ordinary man who became a British folk hero, this is an uplifting, moving story about pursuing your dreams, no matter how far-fetched.
Find out more about The Phantom of the Open