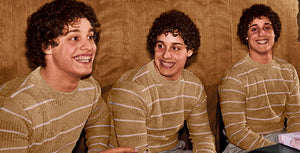 Three Identical Strangers
The unbelievable-but-true tale of three strangers who discover they're identical triplets separated at birth, with one of the most surprising twists you'll ever encounter.
This event has now passed.
When Bobby started college, people mistook him for another guy called Eddy. When they finally meet, Bobby understands why! Over in New York City, another young Jewish man wakes up to some surprising news – he's David, the third stranger. They didn't just look alike; they shared mannerisms and a matching taste in women. The teenage trio's astonishing story hits the news headlines, and life for the triplets turns into a media circus, with trips to Studio 54, and even a movie cameo. Meanwhile, investigative journalist Lawrence Wright uncovers a secret study, which turns out to have sinister implications for the three men. This totally engrossing documentary is truly stranger-than-fiction – no spoilers here, you just have to see it to believe it!
[Three Identical Strangers] tickles at our obsession with triplets, the nature vs. nurture debate, and the idea of being separated at birth. But it infuses its story with a dark reality, too, sending a frigid chill up the spine. – Kevin Fallon, The Daily Beast
The surprises just keep coming in Tim Wardle's documentary, which starts in the realm of the remarkable and is likely to leave jaws dropped by record proportions by the time the credits roll. – Amber Wilkinson, Eye for Film
Running time: 96 minutes
Language: English
Country: UK, USA
Directed by Tim Wardle

Find out more about Sydney Film Festival