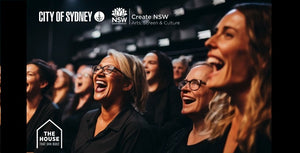 100 Women. 100 Stories
100 WOMEN is a symphony of women's voices from around the country.
This event has passed.
This epic performance will bring together 100 female identifying singers from local choirs across the city to sing in one voice.
​During the 2020 lockdowns, The House That Dan Built recruited 100 women from around Australia to participate in a multi-faceted community engagement project. They shared stories of resilience, connection to community, and reflections on their lives through one on one interviews and group interactions - and simultaneously stitched together a garment (a red cape) that would be passed onto 100 girls.
​Six award-winning Australian female composers knitted those stories into a one-hour moving and poignant choral experience that is today known as 100 Women.
​Composed by Jessica O'Donoghue, Yunyu Ong, Pru Montin, Audrey Ormella, Leahannah Crimmins, Aija Draguns. 
Running time: 60 minutes
Doors open 2:00PM. General seating 
Find out more about 100 Women. Presented by The House That Dan Built.