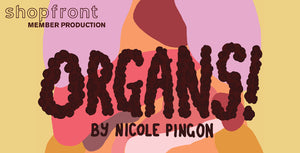 ORGANS!
A Shopfront Member / Playwave Creative Production
This event has now passed.
A shared purpose, different aspirations.
Inside a human body, four disposable organs question the meaning of life as they desperately await change.
Surely it gets better than this?
In a movement-based theatre piece, Shopfront member and Playwave Creative Nicole Pingon explores philosophical questions regarding the monotony of routine, nature of free will and complexities of relationships – all through the perspective of oddly loveable personified organs.
Find out more about Shopfront Arts Co-op