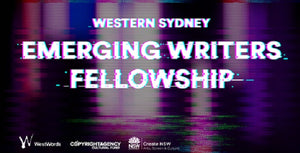 2020 Western Sydney Emerging Writers' Fellowships
Applications open for the 

2020 CA WestWords Western Sydney Emerging Writers' Fellowships 
This opportunity has passed 
The 2020 CA WestWords Western Sydney Emerging Writers' Fellowships offers 3 Fellowships of $4,000 each to emerging writers aged 16 years and over from the Greater Western Sydney region.
In 2020, one of the Fellowships will be granted to an emerging writer specifically writing for children and/or young people.
The Fellowships are open to emerging writers* working in genres including fiction, non-fiction, journalism, poetry and song lyrics, writing for performance, writing online or new media and other forms of creative writing. Illustrators and graphic designers with a demonstrated interest in narrative through visual media may also apply. As part of your Fellowship you will receive a tailored program of mentorship.
Previous mentors from the past two years have included Maxine Beneba Clarke, Melina Marchetta, Judith Beveridge, Bryan Brown, Sara Knox and Walter Mason.
There are three parts to each Fellowship:
Development of your work as a writer
Mentorship opportunities
Working with young people in western Sydney
Applicants must be 16 years or over at 1st October 2020 and be able to demonstrate a strong and/or recent connection to the Greater Western Sydney region.
You may:
have been born and raised in Greater Western Sydney
have lived in Greater Western Sydney for more than 2 years
have worked in the region for a substantial length of time and within the past 5 years
Closing Date: midnight, 7th September, 2020
Guidelines: 2021 CA-WW-WS-Emerging-Writers-Fellowships_guidelines
For more information and to apply, please visit the fellowship website or contact:
p 02 8677 4815
e admin@westwords.com.au
* Emerging is defined as in the first five years of their practice as a writer.