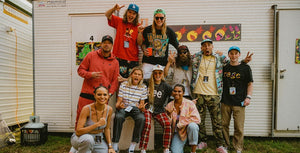 6 Festivals
Three teen besties go to extremes to attend six music festivals in an uplifting film by Macario De Souza (Bra Boys) featuring some of Australia's hottest acts performing live.

This event has now passed
Maxie, Summer and James share a deep bond and love for music. James (Rory Potter) is the entrepreneur of the trio, his sights set on a career as a promoter. Summer (Yasmin Honeychurch) has an incredible singing voice. Maxie (Rasmus King, Bosch & Rockit, SFF 2021) is the maestro of mischief. When James receives a devastating diagnosis, the friends – each with burdens to bear – throw themselves into a whirlwind of festivals in an attempt to escape reality. Featuring top acts Dune Rats, G Flip, Bliss n Eso, B Wise, Peking Duk, Ruby Fields, Jerome Farah, Kobie Dee and more – and fantastic footage shot at actual festivals – 6 Festivals is a moving love letter to young friendship and the life-altering power of live music.

Find out more about 6 Festivals