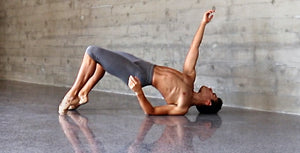 60 dancers: 60 stories
The Queensland Ballet presents 60 dancers: 60 stories
In its 60th year, Queensland Ballet faces one of its greatest challenges. Yet, in these strange, uncertain times, we can be sure of one thing – now more than ever, art must prevail. To keep the magic alive, from our artists to you, Queensland Ballet presents 60 dancers: 60 stories.
A selection of stories is highlighted below, or check out the Queensland Ballet website and Youtube channel for the full program of performances. 
---
Ave Maria | Mia Heathcote and Victor Estévez
This piece signifies a prayer. Human nature requires love and often the dependence on loved ones in challenging times. Our creation is a family collaboration dedicated to our loved ones. Furthermore, we hope it will reach, connect and offer hope to a broader audience during these uncertain times. Love conquers all.
Zweisamkeit  |  Lou Spichtig
German word for Togetherness. In light of current events, I wanted to explore what we feel when we are alone, yet have a sense of togetherness, opposed to how alone one can feel, even when we are all together.
Submerged  |  Lewis Formby

Water and love are the essences of life. We need both to survive and struggle to control either. They are the best and worst of our experiences but when you allow them, they take you to amazing places.
Presented by the Queensland Ballet