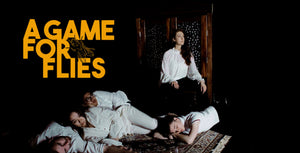 A Game For Flies
A devised work in physical theatre exploring nature and magic
This event has now passed

Yellow Handle Theatre Company presents "A Game For Flies" written and directed by Brianna McCarthy.

Two men have locked themselves away in a cave. Outside their window are thousands of buzzing flies that tap on the glass. But under the noise there is something else whispering in the wind. In their solitude, the humans are troubled by dreams of singing rivers and creatures unknown. What is out there that they're so afraid of?

Featuring Cheng Tang, Nicholas Brady, Prudence Bernadette, Beryl La and Matylda Bre. A Game For Flies through the exploration of physical theatre and music is about magic, nature and what the breeze may blow in through a window left open.
Running Time: 90 minutes
Presented by Yellow Handle Theatre Company at Fairfield School of Arts