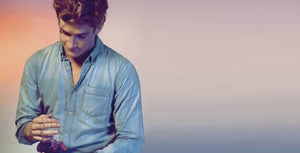 A Town Named War Boy
"We hit Cairo like a train!…Every dirty little alley, every dusty back room bar – the pyramids are marvellous, but I could spend the rest of my days quite happily in the arms of your temptation."
This event has now passed.
Based on the State Library of NSW's jaw-dropping collection of First World War diaries, photographs and letters, A Town Named War Boy brings to life the gripping personal accounts of four young men who set sail for the far side of the world.
Some of these diaries and letters are finished, others just stop. When you read them you meet the person, see the changes in their handwriting, feel the indentation of the pen, the smudges of changed thoughts. Our young past is captured, alive and preserved.
Interweaving stories of mateship and scenes of war this profound and gripping production provides insight into the experiences of Australian soldiers.
Award-winning playwright Ross Mueller shows his extraordinary talent in this funny and moving play that sold-out in its premiere Sydney season.
"The most moving Anzac experience of all." – The Australian
Presented by ATYP  and Riverside Theatres