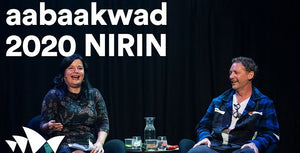 aabaakwad 2020 NIRIN
Recorded as a part of the 22nd Biennale of Sydney 2020
aabaakwad 2020 NIRIN was an international four day gathering of Indigenous artists, curators and thinkers which launched the 22nd Biennale of Sydney in March 2020.
Tune in for this Indigenous-led conversation on Indigenous art by those who create, curate and write about it. In 2020 we welcomed artists from over 24 First Nations and 12 countries.
This film includes a Welcome To Country followed by a Keynote discussion between aabaakwad founder Wanda Nanibush, an Anishinaabe curator of Indigenous Art at the AGO (Art Gallery of Ontario) and Wiradjuri artist/scholar Brook Andrew artist and artistic director of NIRIN, 22nd Biennale of Sydney 2020.
Co-presented by Art Gallery of Ontario, Biennale of Sydney and the Canada Council for the Arts, in partnership with the Sydney Opera House and Museum of Contemporary Art