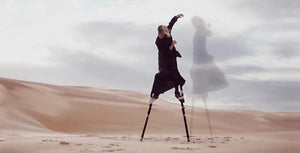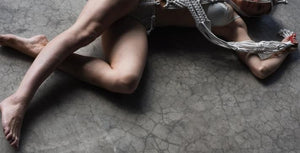 Above Ground
Dance Bites 2018
This event has now passed.
A Double Bill of dance exploring the subtleties of above ground movement with apparatus.
CAT'S CRADLE
In Cat's Cradle, Australia's celebrated physical theatre company Legs On The Wall, explores the depths of what is private and what is public. How do we navigate between what we desire to do and what we are expected to act like?
This work delves into the intimacy between a couple who crave more from their newfound relationship. Cat's Cradle hums with an underlying tension between the performers, sometimes playful sometimes painful.
The performers expertly utilise simple but commanding apparatus that looms over the space like a curtain of tentacles, revealing the underbelly of the story.
Cat's Cradle tantalises us, as it coerces us to look at our own desires where reality and fantasy collide. But will any of us admit to it?
"Risky, gutsy and sometimes wild" (The Sun Herald)
The Risky Stuff: Mature adult themes. Recommended age 16 plus.
Choreographer: Joshua Thomson
SOFT PROSTHETICS AND METAL GODS
What is prosthetic to what? How repressed is the body? Existing in a highly ocularcentric culture have we lost touch with the haptic realm…  As a species dependent on external devices/prosthetics to enhance, extend and expand our human experience, is it possible to breathe life and extend consciousness into these inanimate objects? Who is moving what, and what is moving who?
Kathryn Puie brings her extraordinary versatile physicality to the stage in a new variation of her career-long foray into dance for stilts in collaboration with visual artist, Lux Eterna.
"There's an ambiguity in prosthesis, underpinned by labile space between replacement, augmentation and generation. Between, recovery,substitution and experimentation" (The Prosthetic Cosmos E. Grosz)
"Puie's aggressive athleticism combined with sliding grace." (RealTime)
Co-devisors and performers: Kathryn Puie and Lux Eterna
Sound design: Ashley Scott
Find out more about FORM Dance Projects and Riverside Theatres