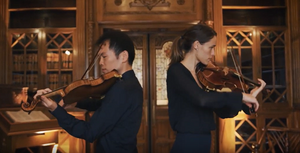 ACO HomeCasts Week 1
ACO's immersive Digital Season
Join the ACO for an immersive Digital Season featuring new recordings, live streamed performances, access to archival and never-released footage, specially curated playlists, in-depth interviews and more. Access the full program from ACO HomeCasts Week 1 here.
 ---
ACO Home to Home: Da Pacem Domine
A brand-new filmed recording of Artistic Director Richard Tognetti, Principal Violin Satu Vänskä, Principal Viola Stefanie Farrands and Principal Cello Timo-Veikko Valve performing Arvo Pärt's 'Da Pacem Domine', live from their homes to yours.
 ---
ACO Backstage: Up Close with Ike and Liz 
ACO violinist Ike See and ACO violist Elizabeth Woolnough give an intimate performance in the spectacular Shakespeare Room within the State Library of NSW (filmed earlier in the year).
---
ACO in Concert: Beethoven's Fifth Symphony
Relive Richard Tognetti leading the ACO through Beethoven's magnificent Fifth Symphony, filmed at Sydney Opera House in 2018.
Presented by the Australian Chamber Orchestra