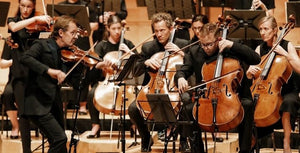 ACO HomeCasts Week 5
ACO's immersive Digital Season
Join the ACO for an immersive Digital Season featuring new recordings, live streamed performances, access to archival and never-released footage, specially curated playlists, in-depth interviews and more.
Week 5 of HomeCasts features unreleased footage from our 'Indies & Idols' concert, a celebration of Brahms and brand-new performances from Principal Violin Helena Rathbone. Access the full program from ACO HomeCasts Week 5 here. 
 ---
ACO in Concert: 'Réponse Lutosławsk'
The National's Bryce Dessner joined us live on Facebook for the release of Réponse Lutosławski, filmed at our 'Indies & Idols' concert last year.
 ---
Brahms's Double Concerto
We celebrated Brahms's birthday through reliving this exhilarating performance of the Double Concerto, featuring Richard Tognetti and Timo-Veikko Valve.
---
ACO Home to Home: Helena Rathbone 'Salut d'amour'
Helena Rathbone performs Edward Elgar's beloved work 'Salut d'amour' for violin and piano.
Presented by the Australian Chamber Orchestra