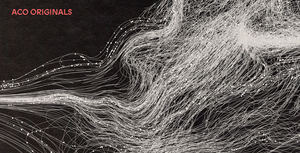 ACO Originals
A new series of digital releases featuring four world premiere recordings of works commissioned by the ACO
The Australian Chamber Orchestra announces a new series of digital releases - ACO ORIGINALS – featuring four world premiere recordings of works commissioned by the orchestra in recent years.
The Australian Chamber Orchestra are known throughout the world for their thrilling and exciting performances of traditional classical repertoire, taking a fresh approach to the old masters like Bach, Beethoven and Mozart. At the same time the orchestra have been fearless champions of new music and living composers, commissioning new works that push the boundaries of how an orchestra can and should sound.
Four of these commissions from recent years are now receiving their world premiere releases in the ACO ORIGINALS series, with new music to be released fortnightly beginning Friday, May 29.
Head to the ACO website to stream the works now!
Presented by the Australian Chamber Orchestra