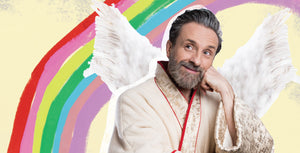 An Act of God
A wickedly clever comedy from the creator of, well, everything.
This event has now passed. 
An Act of God is a wickedly intelligent, hilariously satiric conversation with God, who has chosen to inhabit the body of much loved Sydney theatre performer Mitchell Butel. Having grown weary of the Ten Commandments, God has come to correct mankind's dire misconceptions about His teachings and deliver a radical re-write.
Accompanied by a couple of A-List Angels, God arrives like a celestial talk show host to set the record straight and encourage us to do unto others as we would like to be done unto.
Described as "sinfully funny" by Vanity Fair, what began as a series of tweets, evolved into An Act of God, a hit Broadway show now making its Australian debut.
David Javerbaum is a 13 time Emmy Award winning comedy writer for The Colbert Report and The Daily Show with Jon Stewart.
Find out more about Darlinghurst Theatre Company