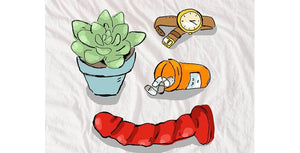 Are We Awake?
"I was really hoping you'd find a way to wear the blue one for the trip there."
This event has now passed. 
"Least while you're on the plane. I bought it for you because it has clouds on it and you'd be able to wear it while you were in the clouds, and then if disaster struck and the plane went into freefall you'd just float with it because you'd be a cloud too."

In a tiny one bedroom apartment, at five thirty in the morning, a young couple sits on the cusp of a day that will change their lives. Faced with the spectre of financial instability, Endymion (Mathew Lee) must relocate for work, leaving his chronically ill boyfriend, Hypnos (Daniel Monks), to fend for himself. As they fight to keep a grip on their version of "normal" - relationship open, cat indoors, boyfriends awake and breathing - Hypnos and Endymion are forced to ask themselves: are they holding tight to their reality, or is what they reach for now just a dream?

This play written by queer theatre-maker and 2017 Shopfront Resident Artist Charles O'Grady (Kaleidoscope, Telescope) and directed by NIDA graduate Sarah Hadley (In a Year with 13 Moons), shines a light on a deeply intimate and ephemeral portrait of contemporary queer love. 

Originally commissioned by Red Line Productions as part of the 2017 New Fitz emerging writers initiative.
Starring Daniel Monks and Mathew Lee.
The Risky Stuff: contains partial nudity, sex scenes, animal death, coarse language.