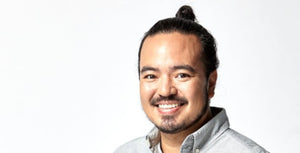 Art After Hours: 6 February
Hear from food extraordinaire Adam Liaw
This event has now passed.
Art After Hours is celebrating Lunar New Year and our new exhibition Heaven and earth in Chinese art: treasures from the National Palace Museum, Taipei. Take in a traditional lion dance, watch masters of calligraphy at work and then catch Benjamin Law in conversation with foodie Adam Liaw. Later in the evening, listen to Sophie Koh's splendour of pop inspired by Chinese poetry.
Milan Ring performs at the Gallery
Embody the revolutionary spirit of the moderns with mass movement workshops for all, led by Danielle Micich, artistic director of celebrated dance theatre company Force Majeure. Each week, dance in the spirit of a different art movement, from the jagged forms of Picasso's cubism to the vibrant energy of Kandinsky's abstraction. Elsewhere in the Gallery, curator Denise Mimmocchi discusses the Tony Tuckson exhibition, catch the film From the East: D'Est or if you're in the mood for some music, be swept away by Milan Ring.