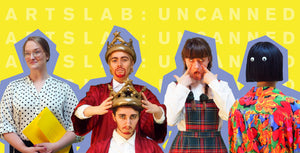 ArtsLab: Uncanned
Shopfront Arts Co-op presents ArtsLab: Uncanned, a festival of new work created by four emerging arts collectives.
This event has now passed.
This season will challenge form, perceptions and incite conversation around the social and political.
30 JAN - 3 FEB, 2019. 
__________________
Ingle

 
by Harry McGee
Hello citizen! You are invited to come to the Ingle Council Meeting. Don't worry, everything is absolutely fine and nothing is wrong in our glorious town. This is just an ordinary council meeting to discuss completely ordinary things... | 30 JAN, 1 - 2 FEB 
_____________________________
Spider In My Soup
by Nicole Pingon
Spiders are our future selves dropping in to check on us.
Spider In My Soup is an intimate sensory experience exploring memory. Enter a dreamscape of performance and live music that questions how we remember, why we forget and what changes over time. | 30 JAN, 1 - 2 FEB
___________________________
Shortcuts
by Madeleine Stedman
How do you grow up without your other half?
A woman pays to relive her memories, hoping to uncover clues to her best friend's disappearance over 30 years ago.
Shortcuts
is a new work from Snatched Collective about grieving and growing up in the late 2000s. | 31 JAN, 2 - 3 FEB
_____________________________
Return Of Kings
by Socks in Jocks | THIS EVENT IS STRICTLY 18+
SAUSAGE SIZZLE! TINNIES! RECLAIM THE KINGDOM! What if one night could shift your destiny?
 Drag meets gospel in
Return of Kings
, a service for masculinity hosted by contemporary drag collective Socks in Jocks, who will expose toxic masculinity for the good of humanity. | 31 JAN, 2 - 3 FEB
______________________________________
Industry Afternoon
, SAT 2 FEB - 2pm onwards
Shopfront will host three free arts panels on the Saturday during
 

ArtsLab: Uncanned
for artists to come along and share in discussions with some of the country's leading artists, arts collectives and organisations.
3:20PM -

 

Panel 1: The Mentors. Join us for a discussion with the 2019

 

ArtsLab: Uncanned

 

mentors, to find out the twists and turns of their artistic journeys.
5:20PM -

 

Panel 2: The Organisations. Leading arts organisations will come together to discuss the access and entry points for independant and emerging artists into their community. 
6:50PM -

 

Panel 3: Indie Collectives. Come along to hear tips, advice, and the hard truth from independent collectives who have paved the way for themselves in the arts industry.