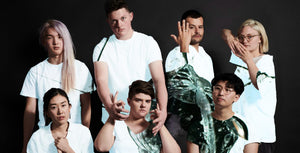 ArtsLab: Unreliable Witness
Shopfront Arts Co-op presents ArtsLab
Shopfront Arts Co-op presents ArtsLab: Unreliable Witness, a festival of five new works by emerging artists. This year's ArtsLab artists explore perception and misperception; the ways in which our own perception may not be what the rest of the world sees, feels and experiences. From deep fakes to ageing in 2021, to the links we make between sound and memory, to our attempts to connect to our own past (which might have never really been ours in the first place). Through the use of visual art, film, live art, technology, performance and theatre, our artists will ask you to challenge your perspectives of the world and the beliefs you hold within.
There is reality and the imagined, and sometimes these get mixed up. You decide where you sit.
The season will include an Industry Day with arts panels and networking opportunities for artists to share in discussions with some of the country's leading artists, arts collectives and organisations.
Book your tickets to see the individual works
POLLON by Eliza Scott
When someone disappears, who becomes the custodian of our experience? pollon is an interdisciplinary piece that explores resilience, memory and how we interpret our surroundings. Formulated with music, anecdotes and interviews with people who have experienced dementia and/or Alzheimer's, pollon is a work that uses pre-recorded audio; including dialogue, songs, instructions to connect participants to the memories we may have left behind. This work investigates the lost ritual of memory. If our realities are being split into keepsakes, how do we continue to associate ourselves with who we are?
Running Time: 50 minutes
Content Warnings: reference to sensitive content, haze, flashing lights
Recommended for ages 15+
THE INFINITY MIRROR by Lily Hayman and Thomas Doyle
Who are we when we are driving home from work? When we're in the shower? When we're on facebook? What's the difference? The Infinity Mirror explores the nature of identity in the internet age, and asks who owns the versions we produce of ourselves online. In the age of new technologies that can fundamentally undermine our ability to control our own image and identities in an online landscape - The Infinity Mirror is a portrait of a fractured woman, unsure of where she stands when her own face and voice are used against her.
Running Time: 50 minutes
Content Warnings: Coarse Language, reference to sexual themes and abuse, partial nudity, reference to pornography, haze, strobe
Recommended for ages 15+
what is saudade is yuanfen is longing by Linda Chen
Smoke seeps through in a bushfire summer smells like // cigarettes in Grandpa's Shanghai apartment smells like // incense on the day your most loved // turn to ash.
How do you pack away a life?
Constructed from fragmented, personal family memories, what is saudade is yuánfèn is longing is a one woman art project exploring notions of home and the pull between the disintegration and (re)claiming of cultural/family identity as westernised Chinese diaspora.  Framed in the context of both personal and collective grief, loss and longing, this is an attempted reliving of the things you can't take with you, as well as the discovery that some things - they don't ever really leave.
Content Warnings: Mild swearing, reference to sensitive content, vivid descriptions of grief, death
This work is showing in the gallery space
no place like tomorrow by Eric Jiang
no place like tomorrow is an art film written and directed by Eric Jiang. The work uses dialogue and dance to explore how Chinese-diasporic and queer identities shape non-normative time experiences.
Run Time: 30 minutes
Content Warnings: explicit language, sexual references (references to violence)
This work is showing in the gallery space
RETITLED by Jason Liu
The perceived notion of internet culture is seen as inferior to that of traditional media to the opposing generation. Retitled is a series of artworks which challenges this value through subverting expectation by appropriating aspects from the differing values to juxtapose traditional and modern media provoking a satirical take on these perceived ideals.
Content Warnings: Imagery of violent situations, adult humor
This work is showing in the gallery space
Presented by Shopfront Arts Co-op at 107 Projects Redfern
Image credit - Joshua Morris. Overlay artwork - David Molloy