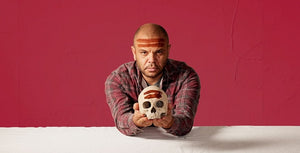 At What Cost?
Playwave tickets available until Saturday 6 May. Book your tickets today to secure your Playwave member price! 
This event has passed.
Tasmania, now.
Boyd has been walking a tightrope for years – balancing responsibilities to Land and People with the simple business of making a living.
But there's something happening, he can sniff it in the wind. Every year more and more folk are showing up claiming to be palawa too. No one's heard of them until now… Where has this missing mob been all these years? Are they legit? Or are they 'tick-a-box'? Who decides? And how?
If Boyd's going to take everyone forward together, they're going to have to go back, old mob or new, into the island's knotty past. And they might not like what they find there.
Running time: 1 hour 45 minutes (no interval) 
Find out more about At What Cost?. Presented by Belvoir St Theatre.