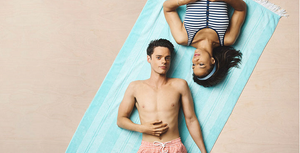 Away: Sydney Theatre Company
Sydney Theatre Company presents Away
This event has passed
"We're going to drive for a bit. See what we find."
Three families embark on life-changing vacations in Michael Gow's classic play, Away. Filled with irrepressible humour and a distinct Australian spirit, Away is a beloved modern classic. Though each family sets out for a different destination, they are thrown together after a torrential storm brings them to the same beach. 
Director: Matthew Lutton
Cast: Marco Chiappi, Julia Davis, Glenn Hazeldine, Natasha Herbert, Heather Mitchell, Liam Nunan, Naomi Rukavina
Watch the special on ABC's iview here. Available to watch online until 30 July 2020. 
Presented by the Sydney Theatre Company