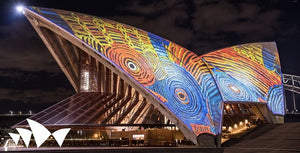 Badu Gili
Sydney Opera House: From Our House to Yours
Bringing their stages to your sofa, the Sydney Opera House's new digital program comes to you weekly from their House to yours. Tune in weekly from Thursday to Sunday for archival footage, live broadcasts and premieres.
Badu Gili - Celebrating First Nations Culture
Each night at sunset, Badu Gili would light up the eastern Bennelong Sail with ancient First Nations stories in a spectacular seven-minute projection. As the lights are dimmed on the sails, we bring Badu Gili to your living room. Recorded on the Monumental Steps in 2017 and 2018

Curated by Rhoda Roberts, Head of First Nations Programming, Badu Gili traces the ancient songlines of First Nations storytelling across Australia. See the works of eminent First Nations artists including Judith (Jenuarrie) Warrie, Mervyn Rubuntja and Djambawa Marawili AM projected onto the Opera House's eastern Bennelong sail across two chapters, accompanied by an original soundscape by Damian Robinson.
View the Sydney Opera House Reconciliation Action Plan to learn more about how we promote cultural awareness and celebrate First Nations cultures through presentation of First Nations works and stories.
Presented by the Sydney Opera House