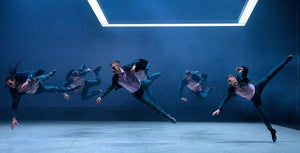 BalletBoyz: Deluxe
Sydney Opera House: From Our House to Yours
Bringing their stages to your sofa, the Sydney Opera House's new digital program comes to you weekly from their House to yours. Tune in weekly from Thursday to Sunday for archival footage, live broadcasts and premieres.
BalletBoyz: Deluxe (Premiere)
BalletBoyz are a critically acclaimed contemporary dance company based in London. Join us as they celebrate their 20th anniversary with Deluxe, a brand new show from the global cutting edge of modern ballet. 
Fusing beautiful dance with original music in their unmistakable style, Deluxe will feature collaborations from some of the world's most inventive choreographers and composers. Shanghai-based dancer and choreographer Xie Xin (TAO Dance Theatre) choreographs a new piece set to an original score by composer Jiang Shaofeng, whilst Maxine Doyle (Punchdrunk) presents work to jazz music by composer Cassie Kinoshi, of the Mercury Prize-nominated SEED Ensemble. 
Presented by the Sydney Opera House