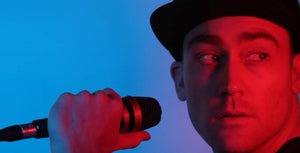 Beatboxing Workshop for Newbies
Learn beatbox basics with LC Beats in this fun, hands-on workshop.
This event has now passed
You will be guided through simple, easy to follow exercises and learn a range of vocal sounds and rhythmic sequences before joining forces to create a beatbox orchestra. No musical knowledge is required and all ages are welcome – bring the whole family! And if participating isn't your thing but you would like to come along to observe and enjoy the atmosphere, you are most welcome.
What is beatboxing?
Beatboxing is the art of vocal percussion, i.e. imitating drum sounds and beat patterns using your lips, tongue and throat. 
About LC Beats
Luke Cavalan aka LC Beats is a professional human beatboxer from Sydney, Australia who performs frequently at festivals, council events and concerts.
This event is held in the City Recital Hall ground level foyer and bar. 
Running Time: Approximately 90 mins including 20 min interval