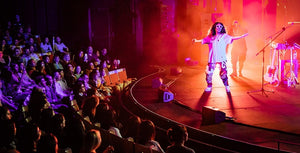 Best of... Music
Sydney Opera House: From Our House to Yours
Bringing their stages to your sofa, the Sydney Opera House's new digital program comes to you weekly from their House to yours. Tune in weekly from Thursday to Sunday for archival footage, live broadcasts and premieres.
Best of... Music | with Head of Contemporary Music and Vivid LIVE Curator, Ben Marshall
The Opera House has played host to many incredible performances. From Bon Iver's goosebump show to Solange's powerful Australian debut, our Head of Contemporary Music, Ben Marshall, chooses 10 of his favourite music videos captured from under the Opera House sails.
What's your favourite Opera House concert? Ben takes us through some unforgettable highlights and discusses why they are some of the best of music at the House.
Ben's Top Picks:
1. The Cure Disintegration 30th Anniversary (Vivid LIVE 2019)
2. Camp Cope (2018)
3. Max Richter  - Sleep (Vivid LIVE 2017)
4. Bon Iver CERCLE (Vivid LIVE 2016)
5. Solange (Vivid LIVE 2018)
6. Flume ('Some Minds' shot at Sydney Opera House, 2015)
7.  Janelle Monáe (Vivid LIVE 2012)
8. Skepta (2018)
9. H.E.R. (Vivid LIVE 2018)
10. Briggs' Bad Apples House Party (Vivid LIVE 2019)
Presented by the Sydney Opera House and Vivid LIVE