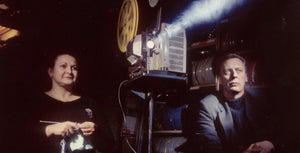 Beyond the myth: Exploring the otherworldly
Take part in this interactive lecture on the possible existence of peculiar worlds just outside of our peripheral vision.
This event has now passed.
Is there life on Mars? Did man really land on the moon or was it all a sinister hoax?
Scientific studies cannot deny the possibility that there is no one truth, but perhaps there are multiple. After three decades of research into the metaphysical and paranormal, cultural icons of the obscure Jay Katz and Miss Death will discuss with the audience the credibility of conspiracies.
Open your mind and get ready to explore topics of the otherworldly, from Sasquatches and UFOs to bizarre disappearing cases and telepathy.
Presented as a part of Conversation Starters: Truth or Dare, a weekend of art, questions and discussion – inspired by the work of Sun Xun.
Duration: 90 minutes
About the speakers
Jay Katz and Miss Death are dedicated to the best cult movies, strange music and underground art in Sydney. Jay Katz is the alias for Jaimie Leonarder, who is a former SBS The Movie Show host. Katz and Miss Death (aka Aspasia) present film programs exploring the genres of underground, B-grade, arthouse, horror, cult, classic, noir and documentary in Sydney's inner west, as part of Mu-Meson Archives.
Image: Miss Death and Jay Katz of Mu Meson Archives, Sydney
Find out more about the Museum of Contemporary Art Australia