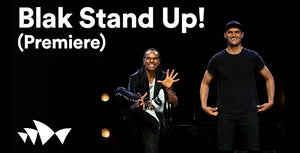 Blak Stand up!
Sydney Opera House: From Our House to Yours
Bringing their stages to your sofa, the Sydney Opera House's new digital program comes to you weekly from their House to yours. Tune in weekly from Thursday to Sunday for archival footage, live broadcasts and premieres.
Blak Stand Up: Andy Saunders & Sean Choolburra
Two of Australia's best stand up comedians combine forces to bring culture, chuckles and community to the digital stage. They have had us laughing in the aisles for many years, and now is the time to revisit their incisive and hilarious comedy. 

Andy Saunders: Biripi man Andy Saunders was destined to make people laugh. From an early age he has been telling jokes in front of a variety of audiences, taking satire to new heights with his impressive ability to use humour as a breaker of barriers and stereotypes. 
His dry, sharp material and powers of attraction make for a powerful combination that captures the attention of audiences of all ages. One of Australia's most popular and successful acts, he performs as a rising star around the country at a variety of events including the Melbourne International Comedy Festival, the Adelaide Fringe Festival and Just For Laughs.
Sean Choolburra: The "Godfather" of Aboriginal Comedy, Sean Choolburra is a proud Girramay, Kalkadoon, Pitta Pitta and Gugu Yalanji man, and one of the most versatile Aboriginal performers in Australia. He maintains, practices and infuses his cultural traditions into his performances. 
Sean is known for his wit, energetic delivery, improvisations and non-stop dance moves. His amazing career has taken him on a global journey, performing for the likes of the Dalai Lama and Prince Charles. There have been numerous highlights along the way but as humble as he is, his most cherished moments are doing what he loves… "sharing his culture and making people laugh". 
Presented by the Sydney Opera House