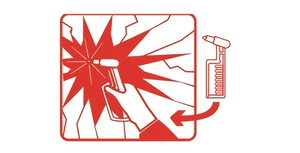 Break Glass (In Case of Emergency)
A festival of four works developed through Shopfront Arts Co-op's emerging artist-in-residence program, ArtsLab
This event has now passed.
Get a Playwave Festival pass to gain access to all performances and the special Industry Night on Friday 2 February.

HOUSE ON FIRE
by Christie Woodhouse
We're getting along right? Housing policy, liberalism, the dunny and a performance experience that needs you.
31 Jan, 1, 3 & 4 Feb
OK, NOW SPIT
by Emily Crocker with Jay Bailey
Dragged through economic uncertainty, individualism, and solidarity, 'OK, Now Spit' is a concept album in the flesh, leading you through chaos to hope.
31 Jan, 1, 3 & 4 Feb
INTIMET
by Camilla Turnbull
Welcome to INTIMET, a world-first exhibit that seeks to once-and-for-all define the undefinable: love. INTIMET aims to uncover intimacy in all of its tangible and abstract forms using real, live humans. 
2-4 Feb (18+)
KALEIDOSCOPE
by Charles O'Grady
A darkly comedic queer romp through space, time, and the gender binary.
31 Jan, 1, 3, & 4 Feb (18+)
FRIDAY 2 FEB - Industry Night from 6pm
Join us for a night of discussions and industry networking all about the practice of being an emerging artist. 
Start Times: 
Wed - Fri 6pm
Sat + Sun 3pm