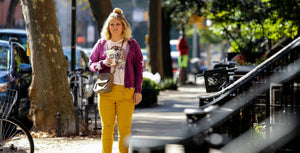 Brittany Runs a Marathon
Brittany's (Jillian Bell, Workaholics, Rough Night) hard-partying lifestyle leads to a diagnosis that requires radical – and hilarious – action. Winner, Audience Award, Sundance.
This event has now passed.
Presented as part of the 2019 Sydney Film Festival
Sharp-witted and very funny, Brittany (the brilliant Jillian Bell) is nearing her 30s but still has a job that barely covers the bills, goes out partying every night and frequently does things she really shouldn't. A doctor visit reveals that Brittany is overweight and has dangerously high blood pressure. Unable to afford a gym membership, Brittany decides to run around her block. Soon, egged on by her seemingly perfect neighbour and other local runners, Brittany is pursuing the dream of running the New York Marathon…but soon her old tendency to self-sabotage takes hold once again. Unpredictable, and defying convention, Brittany Runs a Marathon delicately balances humour and pathos in a truly triumphant combination.
Running Time: 1 h 43 Minutes
Language: English
Country: USA
Directed by Paul Downs Colaizzo