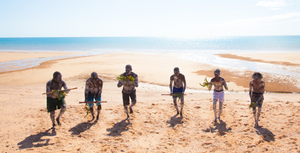 Sydney Festival Presents: BUŊGUL
Gurrumul's Mother's Buŋgul
Gurrumul's Grandmother's Buŋgul
Gurrumul's Manikay
This event has now passed
An exquisite tribute to the talent and musical legacy of Gurrumul Yunupiŋu with the Sydney Symphony Orchestra. 
Created on country in North East Arnhem Land with the Yunupiŋu family, Buŋgul is a ceremonial celebration of Dr G's final, posthumously released album Djarimirri (Child of the Rainbow), one of the transcendent albums of our time. 
Experience the traditional songs, dances and paintings that inspired the album in a live performance by Yolŋu dancers, songmen and the Sydney Symphony Orchestra directed by Senior Yolŋu Don Wininba Ganambarr and Nigel Jamieson. 
Djarimirri brought together traditional songs and harmonised chants from Gurrumul's traditional Yolŋu life with hypnotic orchestral compositions. Now, in his honour, his family add a further cultural and immersive visual dimension to this historic work, performing the songlines that have forged their identity and every aspect of their existence since the beginning of time. 
After the 6pm performance on 25 January, join the passing Procession as it makes its way to Barangaroo for the beginning of the Vigil at sunset – an opportunity to gather overnight by fireside, hear live music by Archie Roach and spoken word performances, and reflect on the story of modern Australia and the impact of colonisation.
The Risky Stuff: Contains haze, smoke effects and sand
Running Time: 90 minutes - no interval
A lockout applies to this production - latecomers will be admitted at a suitable break in the performance


Presented by Sydney Festival 2020 at Concert Hall, Sydney Opera House
We thank and pay our respects to the Yolŋgu people of North East Arnhem Land with whom this work has been created and their country on which this work has been created. We acknowledge the Traditional Custodians of the lands on which we live, learn and work and pay our respects to all Aboriginal and Torres Strait Islander Elders.
"The greatest voice this continent has ever recorded" – Sydney Morning Herald
"Virtuosic, his voice on a plain nigh on improbable, its purity astounding" – Rolling Stone