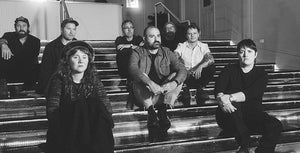 Cash Savage and the Last Drinks
A pillar of Melbourne's music and queer communities, Cash Savage and her colossal band The Last Drinks celebrate the release of their new album, So This Is Love.
This event has passed.
Savage and The Last Drinks are a powerhouse of fierce and brooding energy; every performance is as epic as it is honest, raw and human.
Yet the theme of fragility runs through this new album like a fault line. Fragile mental health, a fragile economy, the fragility of the environment and our personal relationships, all on the brink of collapse, threatening to crack under pressure; this is the fraught territory So This Is Love inhabits, and fearlessly explores. True to the album title, Cash Savage delves deep and with ferocious honesty into what love means to her, as a queer woman coming to terms with a marriage breakup and a mental breakdown. "All love will end, all love will change form", Cash observes, and So This Is Love says.
Singer and songwriter Cash Savage grew up in Port Albert and was born into a musical family. Savage's uncle was Conway Savage, a veteran Australian rock musician and keyboardist for Nick Cave and the Bad Seeds. After playing gigs across Melbourne from age 17, she formed The Last Drinks as her backing band with no fixed line up, but instead including whoever was available on any given night. The now seven-member strong band works together on stage like a gang, with Savage as the indefatigable leader, commanding attention with Australiana rock that cuts through the pageantry and demands to be felt.
Find out more about Cash Savage and the Last Drinks. Presented by City Recital Hall.