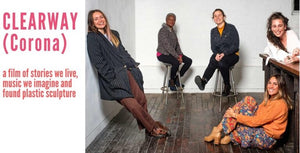 Clearway (Corona)
Voices of Women presents an exclusive online screening of a short film about the stories we live, music we imagine and found plastic sculpture
This event has passed 
Immerse yourself in short, punchy monologues and the moving and humorous world of Australian women's stories. The joy and bewilderment of motherhood, the loneliness of drought, the journeys of strong First Nations women, surviving domestic violence, the bonds of friendship, bus rides of the imagination, and avoiding the cracks in the pavement… not to mention the ever present Corona. Interwoven with the stories, be inspired by contemporary art music and sculptures that express plastic in our ocean.
Filmed at Articulate Project Space. Written by women all over Australia. Performed by actors Julia Christensen, Bellatrix Scott and Claudette Clarke and guest artists Kirli Saunders and Anne Casey, with music composed by Elizabeth Jigalin, and found plastic sculpture by Rox De Luca. Director/producer Lliane Clarke. Filmmaker Clare Hawley. Lighting design Sophie Parker.
Join us for two live vimeo screenings on Thursday 27 August at 6pm and Friday 28 August at 6pm. This is a pay what you can online event. Register for your ticket here. 


Read more about the event at voiceswomen.com
Supported by Inner West Council, Awesome Foundation, Verity La creative journal, Writing NSW and First Nations Australia Writers Network.