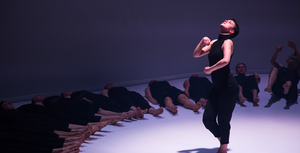 Sydney Festival Presents: Colossus
Award-winning choreographer Stephanie Lake's hypnotic work in which 50 bodies move as one.
Is a crowd more than the sum of its parts? To what extent is the mood of a crowd a reflection of its individuals, and how are those individuals changed by the experience of humanity en masse?

These questions and more inspire Australian choreographer Stephanie Lake's Colossus, an epic work featuring 50 dance students from Ev & Bow, NAISDA, New Zealand School of Dance and Sydney Dance Company's Pre-Professional Year.

Hypnotic and visually stunning, Lake's symmetrically satisfying dance work sees all 50 bodies move as one. Exploring the beauty and ugliness of the collective experience, Colossus builds and re-builds towards a united, frenetic and formidable utopia.

Chain reactions ripple outward from a single movement, and dazzling patterns sweep through supple bodies to a soundscape designed by acclaimed artist-musician Robin Fox, with award-winning lighting design by Bosco Shaw. Formidable yet accessible, this brilliant piece is a masterwork from the Australian choreographer.
The Risky Stuff: Contains haze, smoke effects and sand
Running Time: 50 minutes - no interval
A complete lockout applies to this production - latecomers will not be admitted


Presented by Sydney Festival 2020 at Carriageworks Bay 17
★★★★★ "Thrilling, frightening and entirely unforgettable. A monumental talent" – Time Out

"A triumph… Lake is clearly reaching the height of her powers" – Alison Croggon/Witness Performance