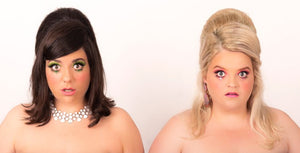 Comedy Kiki: Fat Musicals
Queer Comedy Festival
This event has now passed. 
Join critically acclaimed cabaret stars Maeve Marsden and Libby Wood for a satirical look at musical theatre and its greatest (thinnest) leading ladies. With their trademark dry wit, stunning harmonies and feminist chutzpah, Marsden & Wood deliver an irreverent exploration of body image, tongues planted firmly in cheek.
Why can't fat people fall in love, go on a hero's journey, take centre stage? Why are we always the motherly matrons or comic relief? And why when we finally have a moment to shine, do producers so often cast a thin woman in a fat suit? (*ahem* Hairspray)
Littered with songs from musicals that feature two leading ladies, Fat Musicals takes on Chicago, Calamity Jane, Frozen, Sideshow, A Chorus Line, Wicked and Cats (ok, Catsdoesn't exactly have two female leads, but there's so much to make fun of in Cats).
Bigger than Broadway and wider than the West End Fat Musicals premieres at Eternity Playhouse for Sydney Mardi Gras, the latest from the women who brought you festival sensation Mother's Ruin: A Cabaret about Gin and award-winning musical comedy troupe Lady Sings it Better.
Marsden & Wood are ready to clap back at every reviewer who's called them "buxom" and that dude who called them "appropriately curvacious" (appropriate for what?!), the friend's boyfriend who said they'd sell more tickets if they were hotter, or their personal favourite from an Adelaide blogger: "the singers moved about the stage in ill-managed bodies."
Fat Musicals features as part of Darlinghurst Theatre Company's inaugural Comedy Fest featuring camp comedians and the world premiere of a brand new cabaret show. We'll be serving up high tea with drag bingo, cocktails and more.
Find out more about Darlinghurst Theatre Company