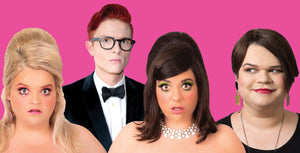 Comedy Kiki: Jordan Raskopoulos
Queer Comedy Festival
This event has now passed.
Hi, Jordan Raskopoulos here, You might know me from the internet. Perhaps as the lead singer of the Axis of Awesome, my Ted Talk about high functioning anxiety, that commercial where I threw a book at Michael Bolton or from my many exploits as a lush queer.
I'm doing a comedy show. It will go for an hour. I'll tell some stories,  sing some songs, do a little dance and probably offer you some biscuits. It'll be great. You'll love it. I've been doing this kind of thing for a while.
This blurb is supposed to be 200 words long but I think you're sold by this point so here's the opening crawl to The Phantom Menace...
Turmoil has engulfed the Galactic Republic. The taxation of trade routes to outlying star systems is in dispute. Hoping to resolve the matter with a blockade of deadly battleships, the greedy Trade Federation has stopped all shipping to the small planet of Naboo.
While the congress of the Republic endlessly debates this alarming chain of events, the Supreme Chancellor has secretly dispatched two Jedi Knights, the guardians of peace and justice in the galaxy, to settle the conflict....
Jordan Raskopoulos features as part of Darlinghurst Theatre Company's inaugural Comedy Fest featuring camp comedians and the world premiere of a brand new cabaret show. We'll be serving up high tea with drag bingo, cocktails and more.
Find out more about Darlinghurst Theatre Company