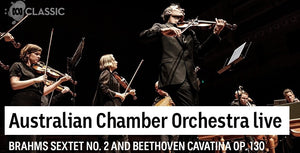 Beethoven and Brahms Live
Australian Chamber Orchestra play Beethoven and Brahms live at the ABC
In this special event, the Australian Chamber Orchestra (ACO) will perform music by Beethoven and Brahms, with the concert broadcast live on radio and video live streamed on the ABC Classic website as well as YouTube and Facebook.
With COVID-19 restrictions in Australia easing, ABC Classic has worked with the ACO to bring 18 players together in the Eugene Goossens Hall at ABC's Ultimo Centre in Sydney. In a formation to maintain physical distancing requirements, the orchestra will perform Brahms's String Sextet No. 2 and Beethoven's "Cavatina" from the String Quartet Op. 130, both arranged for string orchestra by the company's Artistic Director Richard Tognetti.
In 2020 the orchestra marks 30 years with Richard Tognetti as Artistic Director, a remarkable partnership being celebrated across ABC Classic 15-21 June.
Presented by the Australian Chamber Orchestra