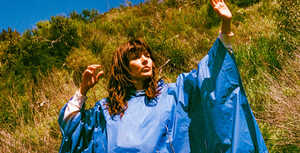 Courtney Barnett's 'End of the Day'
A new and gorgeous chapter from Courtney Barnett is here with the release of her instrumental album End of the Day (music from the film Anonymous Club).
Comprised of 17 improvisations that were originally recorded in 2021 as part of the score to the film Anonymous Club, Barnett returned to these tracks a year later, remixing, re-ordering and reframing them into a seamless meditative collage.
End Of The Day is a meditative, slow-burning and beautiful record, prioritizing atmosphere, tone and texture over traditional song structures and melodic hooks. It's a fearless and stunning turn for an artist who built her formidable reputation through profound lyricism and riff-based fireworks.
Courtney Barnett's End of the Day Sydney Festival show will comprise of an intimate evening split in two sets. The first set will see Barnett and collaborator Stella Mozgawa perform instrumental songs and improvisations from the soundtrack, the second will see Barnett performing songs and singing from her incomparable back-catalogue.
Running time: Approximately 2.5 hours, including a 20-minute interval
Find out more about Courtney Barnett's 'End of the Day'. Presented by City Recital Hall.