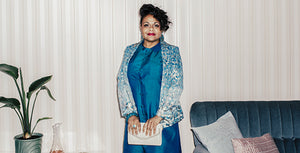 Diving for Pearls
"Never in my life has the right thing happened at the right time."
This event has now passed.
Katherine Thomson's story about aspiration and reinvention is one of the great Australian plays. Set in Wollongong during the economic rationalism of the late '80s, Diving for Pearls remains startlingly relevant—the political decisions of that time planted the seeds of divide we continue to witness between those with opportunity, and those without.
With the town she grew up in changing all around her, Barbara is determined to change with it. Dreaming of a way out, she sets her sights on landing a job at one of the new resorts popping up all over town. Meanwhile, her partner Den is having change forced upon him. The steelworks he's worked at his whole life has been sold and Den must reinvent himself to survive. The arrival of Barbara's daughter, Verge, just might be the thing that tips Barbara and Den over the edge.
Helpmann Award-winning actor, the great Ursula Yovich stars as Barbara, a character as significant in the history of Australian theatre as Willy Loman is in America's.
Find out more about Griffin Theatre Company